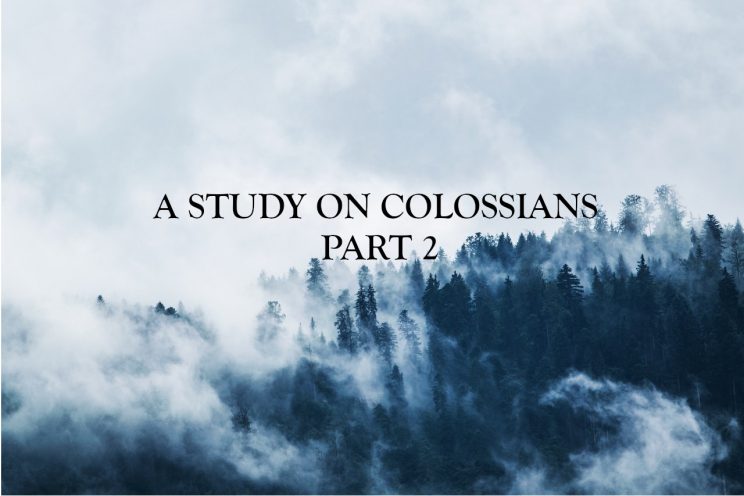 Welcome to Part 2 on the study on Colossians. If you haven't visited Part 1, here's the link. We will be visiting chapter one today to get in depth about the church in Colossae.
In my previous blog post, I had mentioned that the Colossians were surrounded by false teachers who claimed to proclaim false wisdom to the people there. There was no end to these philosophical teachings and they largely denied the Gospel of Jesus Christ. In spite of all this, we see that the people of Colossae put their faith in Jesus but even then they were still being influenced by these so called "philosophies."
An Attitude of Gratitude
In almost all his letters, Paul begins writing them with an attitude of gratitude. He is grateful to God for the faith in Christ Jesus and the love for the saints that the Colossians had shown. His goal was to promote the gospel with love and people genuinely accepted him as a real apostle of the Lord who had once persecuted the church.
Thanking God for his mercies is the quality of an individual who has realized that he or she doesn't deserve God's mercies but still enjoy them. It comes by being humble. We have a culture today that rejects God's providence and instead embraces an individual's talent that bring them their needs. A huge emphasis is being laid on human intellectual capabilities. As a result, we have returned towards becoming materialistic rather than giving all praise to Him who created us.
Today's Christians are just thankful for the house they stay in, the car they drive and the phones they own. They expand their comfort zone in many ways and try to stay as comfortable as possible. That is a dangerous place to be in. From their viewpoint, God has blessed them with all the luxuries of the world and denying it would be disastrous. God is never against prosperity. But He is against those who do not deny themselves and take up their cross (Matthew 16:24).
We can become thankful just like Paul was with the fruit of the Holy Spirit i.e. Love. Godly love denies the self and instead focuses more on serving others. Paul embraced this quality ever since he was changed at Damascus. He was focused more on serving rather than receiving. This quality is the result of a transformation where God himself intervened to renew Paul. God expects the same from us as we become renewed in Him. This will be a benchmark for many who are yet to know Christ.
Love is both a commandment and a choice. We can choose to embrace it whereas we can also neglect it. With more love that denies the self, we serve ourselves more to the will of God.
Serving God
Serving God is the act of humbling ourselves before God. The magnanimity of God's power certainly humbles those who are close to Him. Our heart positions us for greatness, in God's eyes. For that, we should serve God with reverence. Here we say, "God let your will alone be done in my life. Make me your servant".
What's more important about being a servant? You might ask what's wrong in just taking charge immediately. Jesus said something in Matthew that is still significant today – whoever wants to be greater must learn to serve first.
The attribute to achieving great success was to become humble in Jesus's own words. Humility and persistence make a great leader according to a leading author. Serving is a process that builds wisdom, patience and perseverance in us. And it starts by coming up from the lowest to the highest position.
Generally speaking, some cultures around the world have spread a negative decision making thought process that would affect good leaders to become really effective ones. The concept states that young people should take charge by being the leader today and not tomorrow. The problem with this thinking is that the leaders themselves have not experienced what it means to become a junior level employee. When the time comes, they are ill-equipped to face the daunting task that is ahead of them. This could businesses to shut down just like that even when they could have prospered. This underlines the importance of being a leader by becoming a servant first.
Serving God is traditionally seen as role that is kept for priests and missionaries. In fact, everyone who seeks to be in a relationship must serve Him – when we talk, when we walk, when we eat, when we dance and the list goes on. It sets an example for the one who wishes to see Christ in their walk with Christ.
How Do We Serve?
Paul gladly submitted himself into God's ministry. In all this he served God faithfully in love. His love for God made it easy to endure his sufferings gladly in his flesh. Today, the scenario has changed. Praying for five minutes is time-consuming whereas calling a friend for an hour is perfectly okay. As our luxuries increase, we rarely see who is behind all of it – God himself.
We fight wars with our flesh every single day. The mind and the body always stay in sync. Hence, to serve God wholeheartedly, we need a transformation of our minds that only the Spirit can help us with.
To elaborate further more, Romans 12 begins with an introduction on how we serve God in verses 1 and 2:
"Therefore I urge you, brothers and sisters, by the mercies of God, to present your bodies [dedicating all of yourselves, set apart] as a living sacrifice, holy and well-pleasing to God, which is your rational (logical, intelligent) act of worship." - Romans 12:1
"And do not be conformed to this world [any longer with its superficial values and customs], but be transformed and progressively changed [as you mature spiritually] by the renewing of your mind [focusing on godly values and ethical attitudes], so that you may prove [for yourselves] what the will of God is, that which is good and acceptable and perfect [in His plan and purpose for you]." - 
Romans 12:2
From the above, we infer two things that we should be prepared for to serve God – First, we dedicate ourselves wholly to God's will as a living sacrifice. Second, we allow God to transform us as we gradually progress in our relationship with God.
Becoming a Living Sacrifice
To serve God wholly, we start with Romans 12:1 where Paul emphasizes that our bodies should be a living sacrifice, holy and well-pleasing to God. In other words, we make our bodies slaves to the will of God.
Living a sacrificial life is easier said than done. Only Jesus perfected God's will in every way in His human nature. At the Garden of Gethsamene, Jesus said these famous words to Peter – "Watch that you do not fall into temptation. The spirit is willing but the flesh is weak."
There is only one implication for this – that our earthly bodies are weak by itself. We need the Holy Spirit in giving us self-control along with God's ultimate grace so that his mercies will cover over all our faults. The Gospel has the power to shut all temptations and addictions in our life.
In the process of making our bodies a slave to God's will, we should gladly persevere to promote the gospel. It would mean making a few changes such as having a different outlook towards life, changing our routines and making time to help somebody else or prioritizing the will of God in your life more than your will. These changes will definitely make an individual more available to the kingdom of God. Furthermore, God sees that we are available for his purposes and He will begin to use us for His needs.
Our world has the power to tempt man into sin whereas God has the power to free man from sin. Look around you and I would guarantee that within fifty meters from your house that there is always something in the vicinity that causes a man or a woman to sin.
I love to say this that when we surrender ourselves to God's will, God becomes our friend and we become his sidekick.
Becoming Transformed
Romans 12:2 exhorts anyone who wishes to serve God with an advice – to not be conformed according to the desires of the world. Instead, be transformed by the Word.
Change is important. So is our will to change. It doesn't come without our desire or consent because we still have free will.
So what's so important about being transformed as written in Romans 12:2? People think that as soon as we accept God as our savior or after being baptized that they have changed. The reality is that they are a new person in Christ. Inside, they still need a transformation that grows by meditating the Word and its principles.
Meditating the Word is so important in these times. When we are renewed, we become that new person God has always wanted us to be. Reading the Word brings clarity and practicing it brings a new change within you. All of you have to do is accept the process; it is worth going through that transformation.
Stay connected. Stay blessed. Reach us on Twitter @mbm4u and Facebook @mybiblemessage.